Traditional Miso Soup
Seasonal Vegan, Vegetarian, Gluten free, Dairy free, Egg free recipe
Here, you will find the basic method for making your own miso soup. You can add any green or root vegetables and Clearspring Udon noodles to make it into a pot dish as well.
Preparation
Soak the Dashi for at least 30 minutes or longer in cold water, bring to boil, then remove the Kombu seaweed. If you'd like to add vegetables, add these now and cook until your desired softness. Add the rest of your ingredients and let it cook for a few more minutes, remove from the heat and add your miso*.
Enjoy!
*There are many ways of adding the miso into your soup. Here are a few ways:
You can have the miso in a separate bowl, dilute it with your dashi water and then pour it back into the soup.
You can place the miso in a miso sieve and mix it into your pot.
Simply ladle the miso into your pot and mix the paste on the ladle with a spoon or chopsticks.
*Tip: Do not let your soup boil after you have added the miso - as this will kill the miso's fermentation process.
Courtesy of Clearspring
Special Diets
When using the ingredients listed, this recipe is suitable for the following diets:
• Vegan
• Vegetarian
• Gluten free
• Dairy free
• Egg free
Please Note: May still contain traces of gluten, egg and dairy.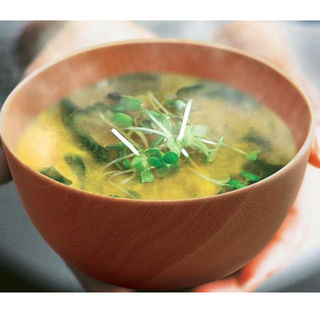 Ingredients
For the Dashi:
1 dried Clearspring Shiitake Mushroom
1ltr water
For the Soup:
1 finely chopped spring onion





Please Note: May still contain traces of gluten, egg and dairy.
---
---