Potato and egg curry
Seasonal Vegetarian, Gluten free, Dairy free recipe
A vegetarian curry with seasonal vegetables like onion, potatoes and beans.
Preparation
Heat the coconut oil in a deep pan, add the black mustard seeds for a minute before adding the chopped onions. Fry for around three minutes before adding the garlic. Fry for another 2 minutes before adding the turmeric, ground cumin and garam massala. Fry for one more minute and add the potatoes and fry for another minute.
Now add just enough water to cover the potatoes, bring to a boil and cook for around 5 minutes before adding the French beans or runner beans. If you are using fresh peas too, you need to add them now, or if you are using cooked peas only add these towards the end. Bring to a boil again and cook for around 10 minutes or until all vegetables are cooked.
In the meantime, boil the eggs for around 5 minutes.
Drain the curry is necessary and plate with the hard boiled eggs on top.
Special Diets
When using the ingredients listed, this recipe is suitable for the following diets:
• Vegetarian
• Gluten free
• Dairy free
Please Note: May still contain traces of gluten, egg and dairy.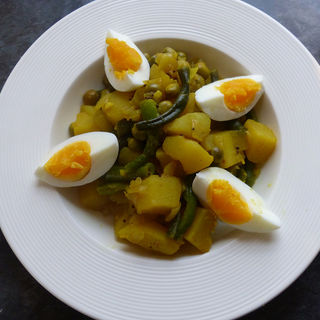 Ingredients
1 tsp black mustard seeds
2 onions, peeled and chopped
2 cloves of garlic, peeled
1/2 tsp garam masala
400 g potatoes, peeled and cubed
100 g French beans or runner beans
100 g podded peas



Please Note: May still contain traces of gluten, egg and dairy.
---
---