End of Season Fried Rice
Seasonal Vegan, Vegetarian, Dairy free, Egg free recipe
This fried rice uses carrots and leeks, which are still available. And when you have grown them yourself, these will be the last before the new lot is ready!
Preparation
Boil the rice for around 30 - 35 minutes. You can try to see if it's ready by taking a little rice out of the pan (careful, it is hot!) and taste it. If it's soft, it's ready. Drain the rice.
Heat the oil in a stir-fry pan or wok.
Add the carrots and leeks and stir fry for around 8 - 10 minutes. Add the Mheat and soy sauce and stir fry for another 5 minutes or so. Add the ground ginger, ground coriander and ground cumin and stir fry for 5 more minutes.
Add the drained rice and heat everything up until piping hot.
Serve with pickles, like pickled cucumber and Atjar Tjampoer
Atjar Tjampoer is a pickled vegetable dish with cabbage, bean sprouts and carrots and at this time of year, when there are hardly any fresh vegetables for the home grower, pickled vegetables add some flavour to the table.
Special Diets
When using the ingredients listed, this recipe is suitable for the following diets:
• Vegan
• Vegetarian
• Dairy free
• Egg free
Please Note: May still contain traces of gluten, egg and dairy.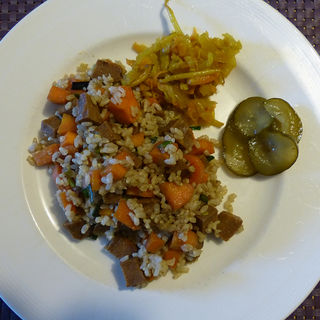 Ingredients
1 leek, chopped and washed
2 carrots, peeled and chopped
1/2 tsp ground coriander




Please Note: May still contain traces of gluten, egg and dairy.
---
---