Pasta with Nori
Seasonal Vegan, Vegetarian, Gluten free, Dairy free, Egg free recipe
Nori is a sea vegetable high in iodine. You can use it not only for making sushi, but also in this summery gluten free pasta dish.
Preparation
Peel and slice the garlic. Dice the chilli pepper as finely as you can. If you like it spicy, you can use the seeds, or take out the seeds if you like it milder.
Heat the oil and fry the garlic and chilli pepper on medium heat for around 4 minutes. Take out the garlic, but keep the oil.
Cook the gluten free pasta following the instructions.
Finely slice the parsley. Grate the yellow part of the lemon and cut out the lemon parts.
Toss together the pasta, parsley, nori sprinkles and garlic/chilli oil. Sprinkle the lemon rind on top and serve with the lemon parts.
Serve with a green salad or a tomato salad.
Although this recipe doesn't contain much protein, if you have had a protein containing lunch, you don't need to worry too much about missing protein for one night.
Special Diets
When using the ingredients listed, this recipe is suitable for the following diets:
• Vegan
• Vegetarian
• Gluten free
• Dairy free
• Egg free
Please Note: May still contain traces of gluten, egg and dairy.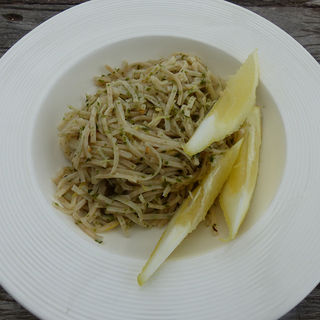 Ingredients
2 cloves garlic
1 chilli pepper
10 g flat parsley
1/2 organic lemon





Please Note: May still contain traces of gluten, egg and dairy.
---
---