Vegan Avocado Cheese cake
Seasonal Vegan, Vegetarian, Gluten free, Dairy free, Egg free recipe
This cheese cake has a twist! It's made with coconut and not with actual cheese, so it is suitable for vegans and those with a lactose intolerance. Avocado's are in season in Spain in February.
Preparation
Heat a frying pan and dry-roast the ground almonds, sesame seeds and anise seeds until lightly browned. Add the dates and ground in a kitchen machine. Melt 25 g of the coconut butter and add to the almond mixture and combine well.
Line a 18cm round cake tin with baking paper. Add the almond mixture and using the round side of a spoon press firmly until you have an even base.
Remove the avocado pit (take care!) and peel. Add to a kitchen machine. Squeeze the lemon and put the juice in too. Grate the orange bit of the orange skin and add to the avocado/lemon juice.
Add the maple syrup, almond milk and vanilla extract and puree this mixture until smooth.
Melt the coconut butter in a sauce pan and add to the avocado puree and combine.
Add the avocado/coconut mixture to the cake tin and smooth out.
Leave it to chill for at least 2 hours in the fridge.
Special Diets
When using the ingredients listed, this recipe is suitable for the following diets:
• Vegan
• Vegetarian
• Gluten free
• Dairy free
• Egg free
Please Note: May still contain traces of gluten, egg and dairy.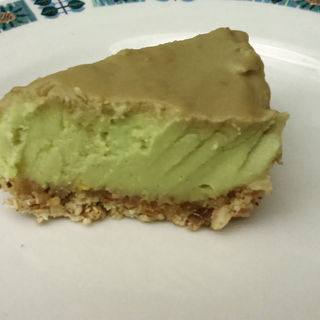 Ingredients
1 organic lemon
1 organic orange
100ml almond milk
3 ripe avocados





Please Note: May still contain traces of gluten, egg and dairy.
---
---