(Picnic) Pasta Salad
Seasonal Vegan, Vegetarian, Dairy free, Egg free recipe
Sunflower seeds are a good source of vitamin B6 and zinc which can both help with healthy skin and nails.
Sesame seeds are surprisingly high in calcium, so ideal for people on a dairy free diet.
And of course the vegetables are high in vitamin C and fibre to help maintain a strong immune system and aid good digestion.
Preparation
Cook the pasta following the instructions on the packaging.
Grate the carrot, courgette, broccoli and apple.
In a dry hot pan, toast the sesame and sunflower seeds until lightly browned.
Add all these ingredients to the pasta and mix.
Make a dressing with the yogurt, lemon zest and juice, mint and rapeseed oil.
Just before serving, add the sauce to the pasta and season with freshly ground pepper.
This dish can be eaten cold - perfect picnic food (that's if the weather ever improves and the midges decide to take the day off!)
Special Diets
When using the ingredients listed, this recipe is suitable for the following diets:
• Vegan
• Vegetarian
• Dairy free
• Egg free
Please Note: May still contain traces of gluten, egg and dairy.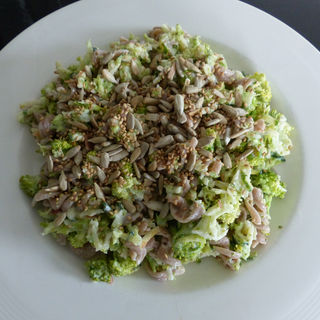 Ingredients
1 carrot
1 courgette
1 medium head of broccoli
1 apple, cut into quarters and cored
30g sesame seeds
1 tbsp cold pressed rapeseed oil
100ml low fat yoghurt (or soya yogurt)
Finely grated zest and juice of 1 lemon
2 tbsp chopped fresh mint




Please Note: May still contain traces of gluten, egg and dairy.
---
---