Seaweed and Spring Onion Pancake
Seasonal Vegan, Vegetarian, Dairy free, Egg free recipe
Enjoy Spring with these tasty pancakes!
Preparation
Sift the flour, put it in a large mixing bowl. Add the salt to the measured boiling water and mix well until dissolved.

Add the salted boiling water to the flour whilst stirring slowly, using chopsticks or a spatula until the mixture comes together as a dough. use your fingers to combine well.
Lightly dust the surface with flour, then place the dough onto a worktop and knead for 5 minutes until smooth.
Cover the dough with cling film or a damp cloth and rest for 30 minutes at room temperature.
To make the chilli dipping sauce, mix all the seasonings.
Unwrap and divide the dough into four. Cover the rest of the dough with cling film or a damp cloth to prevent it from drying.
Dust the worktop with flour and press each piece of dough onto the worktop using your palm, then roll out the dough to a very thin rectangle shape using a rolling pin. This will make a flaky texture.
Spread a little oil on the surface of the dough and evenly sprinkle with spring onions and Clearspring Green Nori Sprinkle. ( You can add the reconstituted Wakame as well if you have some extra)
Roll the dough gently and firmly into a cylindrical shape. then roll it from left to right to make it look like a lolly pop candy. set aside.
Before starting to cook, gently roll the dough out to make a flat round shape as thin as possible. Heat the frying pan to hot, and lightly oil the frying pan then place a pancake on it. Cook for about 4-5 minutes until both sides are brown. Repeat the same process for the rest of the pancakes.
Serve while they are hot with chilli dipping sauce.
Courtesy of Clearspring
Special Diets
When using the ingredients listed, this recipe is suitable for the following diets:
• Vegan
• Vegetarian
• Dairy free
• Egg free
Please Note: May still contain traces of gluten, egg and dairy.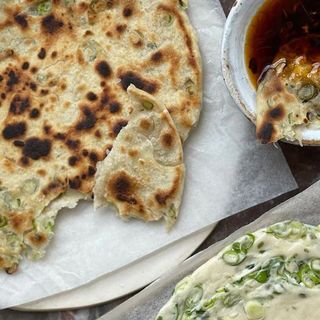 Ingredients
¼ tsp Clearspring Unrefined Sea Salt
150ml Boiling Water
50g Spring Onion
For the Dipping Sauce:
1 Tsp Chilli Oil
2 tbsp Clearspring Mirin




Please Note: May still contain traces of gluten, egg and dairy.
---
---