Chocolate Peanut Butter Tart
Seasonal Vegan, Vegetarian, Dairy free, Egg free recipe
Pure indulgence for the dark winter months!
Preparation
Preheat oven to 170 degrees C and line baking sheets with parchment paper.
Lightly grease a tart pan with coconut oil in a bowl, combine all of the ingredients for the crust and stir together. Press evenly into the prepared tart pan then bake the crust for 10-12 minutes.
In a heat proof bowl add the chocolate and peanut butter and place over a double boiler with simmering water.
Place in the refrigerator while you prepare the peanut butter filling.
In a stand mixer, whip the chilled coconut cream for 1 minute, until smooth and creamy. Add the peanut butter and maple syrup. Whip for another 30 seconds or until combined.
Spread evenly in the prepared tart crust. Place in the refrigerator for 30 minute.
Place chopped dark chocolate in a large bowl. In a small saucepan, bring coconut milk to a boil. Pour hot coconut milk over chocolate and let stand for 1 minute, then stir until smooth and creamy.
Pour ganache over the peanut butter layer. Garnish the top with peanuts. Refrigerate for 30 minutes before serving
Courtesy of Meridian Foods
Special Diets
When using the ingredients listed, this recipe is suitable for the following diets:
• Vegan
• Vegetarian
• Dairy free
• Egg free
Please Note: May still contain traces of gluten, egg and dairy.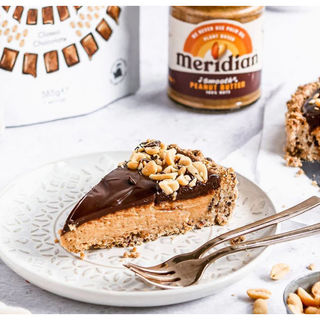 Ingredients
For the Chocolate Ganache:
For the Crust:
250g The Great British Porridge chocolate oats
For the Peanut Butter Filling:
120g Meridian peanut butter
2 tbsp Meridian maple syrup




Please Note: May still contain traces of gluten, egg and dairy.
---
---