Lettuce with fried Tempeh
Seasonal Vegan, Vegetarian, Gluten free, Dairy free, Egg free recipe
Lettuce is in season more or less from May right until September. Tempeh is fermented soya beans and very healthy.
Preparation
Marinate the tempeh some hours before cooking (or overnight) by mixing together the crushed garlic, ketchup, bbq sauce, runny honey, soya sauce and water. Add the cubed tempeh and thoroughly mix together. Put aside in the fridge until cooking.
Cook the basmati rice following the instructions.
Slice half the lettuce in strips, keep a few leaves whole.
Heat the oil in a wok or large frying pan and fry the tempeh for around 10 - 15 minutes until nice and crispy.
Add the cooked rice and grated carrot and warm up. Add the lettuce strips and stir together.
Arrange the lettuce leaves on plates, add the rice mixture and top with the peanuts.
Serve with any hot marinade you may have left over.
Special Diets
When using the ingredients listed, this recipe is suitable for the following diets:
• Vegan
• Vegetarian
• Gluten free
• Dairy free
• Egg free
Please Note: May still contain traces of gluten, egg and dairy.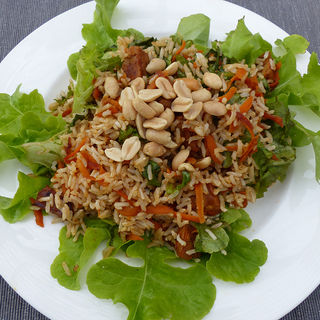 Ingredients
1 carrot, peeled and grated
1 clove garlic, peeled & crushed
1 lettuce, iceberg or other
2 tbsp local runny honey
2 tbsp water
handful peanuts





Please Note: May still contain traces of gluten, egg and dairy.
---
---