Summer Tempeh Wrap
Seasonal Vegan, Vegetarian, Dairy free, Egg free recipe
Vegan wrap filled with tantalising taco tempeh, summer vegetables and avocado.
Preparation
Prepare the tomatoes, red onion, red pepper, coriander and lime juice, and distribute them equally into two separate bowls.

Add the mashed avocado to one of the two bowls, stirring thoroughly to make a guacamole (the mixture in the other bowl is the salsa).

Heat the oil in a frying pan over medium heat for 1 minute, then add in the Better Bites. Cook for 2-3 minutes, mixing regularly to ensure they are evenly cooked.

If using soft tacos, follow instructions on how to grill or warm them.

Let the stacking begin! Get your taco ready and add in your Bites, salsa, guacamole, sour cream and optional lettuce and vegan cheese.
Recipe courtesy of Better Nature
Special Diets
When using the ingredients listed, this recipe is suitable for the following diets:
• Vegan
• Vegetarian
• Dairy free
• Egg free
Please Note: May still contain traces of gluten, egg and dairy.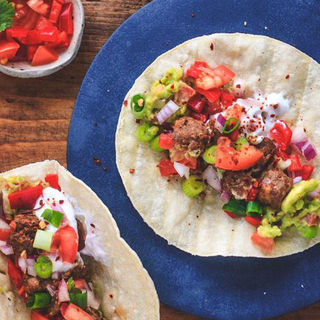 Ingredients
1 pack Tantalising Taco Better Bites
½ red onion, finely diced
3 tomatoes, finely diced
1 bunch of coriander, finely chopped
1 red pepper, finely diced
1 lime, squeezed
1 avocado, mashed
Salt and pepper, to taste
3 tbsp vegan sour cream, to serve
6 soft tacos
Shredded Lettuce, optional




Please Note: May still contain traces of gluten, egg and dairy.
---
---