Almond & Sesame Burgers
Seasonal Vegetarian, Gluten free, Dairy free recipe
For this recipe you could also use soya beans instead of cannellini beans, but increase the cooking time by 1,5 hours.
Preparation
Soak the dried cannellini beans overnight.
Drain and add plenty of fresh water to cover the beans, bring to a boil and simmer for 1,5 hours until the cannellini beans have softened. You could use canned cannellini beans instead, but there will be some waste as you only need 120g of canned beans. Drain when ready and leave to cool.
Using a food processor or blender, finely chop the cannellini beans, almonds, onion, carrot and tamari sauce.
Empty into a large mixing bowl and add the porridge oats, egg, gram flour, cumin, coriander and sesame seeds and mix well.
Divide the mixture into 10 portions and with wet hands, form 10 burgers.
Heat the oil in a frying pan and fry the burgers at medium heat for around 5 minutes per each side. Leave to drain on kitchen paper for a minute before serving.
These vegetarian burgers go well with a carrot salad and (gluten free) toasted bread.
Special Diets
When using the ingredients listed, this recipe is suitable for the following diets:
• Vegetarian
• Gluten free
• Dairy free
Please Note: May still contain traces of gluten, egg and dairy.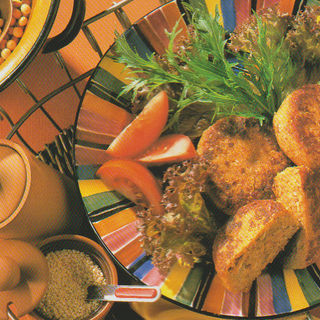 Ingredients
1 carrot, peeled and grated
1 onion, peeled & chopped
1 tsp ground coriander
3 tbsp sesame seeds
Oil to fry



Please Note: May still contain traces of gluten, egg and dairy.
---
---