Tofu Massala
Seasonal Vegan, Vegetarian, Gluten free, Dairy free, Egg free recipe
Recipe with tofu in a massala style sauce, with cucumber salad and boiled potatoes.
Preparation
Drain the tofu and cut in 1cm cubes (1/2 inch).
Mix together the toasted sesame oil, ground coriander, ground cumin and chili powder. Add the drained tofu cubes and mix well, trying to coat the tofu evenly with the spice mixture. Leave for at least one hour in the refrigerator.
When starting cooking, add the finely chopped shallots, crushed garlic, chopped mint and chopped dried ginger to the soya yogurt and stir.
Heat the margarine in a frying pan and bake the tofu for around 10 minutes until fairly crispy. Reduce the heat to low and add the yogurt mixture, stir well. Make 1dl bouillon by adding boiling water to the teaspoon bouillon powder. Add the bouillon and heat slowly (without boiling) until piping hot.
Serve with boiled potatoes and lettuce with cubes or sliced cucumber.
Special Diets
When using the ingredients listed, this recipe is suitable for the following diets:
• Vegan
• Vegetarian
• Gluten free
• Dairy free
• Egg free
Please Note: May still contain traces of gluten, egg and dairy.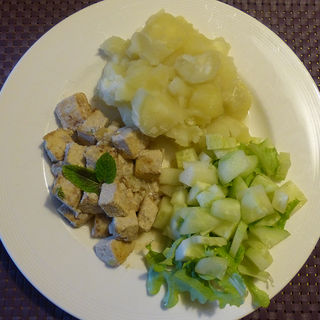 Ingredients
1tsp ground coriander
1-3 tsp chili powder
2 garlic cloves, peeled and crushed
100ml soja yogurt
3 shallots, peeled and finely chopped
2tbsp chopped fresh mint
1 Cucumber, diced or sliced
1/2 iceberg lettuce, washed & torn
Potatoes to serve





Please Note: May still contain traces of gluten, egg and dairy.
---
---