Halloumi and Cherry Salad
Seasonal Vegetarian, Egg free recipe
A colourful Summer salad with halloumi, cherries and naan bread.
Preparation
Start by ripping the naan breads big pieces of about 5 cm across. Sprinkle with olive oil and sumac spices or za'atar spice blend. Scatter evenly on a baking tray and put in the top of an oven for around 8 minutes.
In the meantime, slice the halloumi cheese in slices of about 1 cm thick and put these on a different oven tray. Put in the oven underneath the naan bread, turn the naan bread pieces and change the timer to 10 - 15 more minutes.
Prepare the salad while waiting:
rip the iceberg lettuce leaves, cut the fresh basil and the fresh parsley and add the herbs along with the dried dill and the pitted cherries to the lettuce and mix well.
For the dressing:
combine all ingredients with a hand blender until you have a dressing.
Serve the salad with the dressing and the naan bread and halloumi as a side.
(the original recipe said to combine it all, but I found that the halloumi on top of the toasted naan bread and eating the salad separately was much nicer. It's up to you!)
Special Diets
When using the ingredients listed, this recipe is suitable for the following diets:
• Vegetarian
• Egg free
Please Note: May still contain traces of gluten, egg and dairy.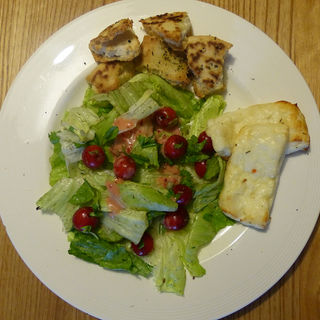 Ingredients
2 naan breads
4 tbsp olive oil
2 tbsp sumac or za'atar spice mix
1 block halloumi
1 iceberg lettuce
1 tsp dried dill
2 tbsp fresh basil
2 tbsp fresh parsley
300g fresh cherries, pitted
For the Dressing:
1/2 tsp chilli flakes
4 tbsp olive oil
50 g cherries, pitted


Please Note: May still contain traces of gluten, egg and dairy.
---
---