French Beans & Potato Vegetable Stew
Seasonal Vegan, Vegetarian, Gluten free, Dairy free, Egg free recipe
A vegan and gluten free recipe using seasonal vegetables like French beans and potatoes.
Preparation
Start by cooking the potatoes.
In the meantime:
heat the sunflower oil in a large frying pan or wok. Add the chopped onions and fry for around 4 minutes, add the garlic and fry for another 2 minutes. Add the tomato paste (tomato puree) and the spices and fry for 1 more minute.
Add the tinned chickpeas, the tinned chopped tomatoes and the bouillon powder and bring to a boil. Rinse the chopped tomato tin with a little water which you can add to the pan too.
Boil for around 5 minutes before adding the French beans (or if you like your French beans soft, add them at the same time as the bouillon powder).
Cook for another 5 minutes - 8 minutes.
By now the potatoes should be cooked and can be added to the stew. If the potatoes are not entirely cooked yet, you can either continue boiling them or boil the entire stew a few more minutes.
Finish by sprinkling the chopped parsley on top.
Top tip: you substitute the French beans for fresh peas.
Special Diets
When using the ingredients listed, this recipe is suitable for the following diets:
• Vegan
• Vegetarian
• Gluten free
• Dairy free
• Egg free
Please Note: May still contain traces of gluten, egg and dairy.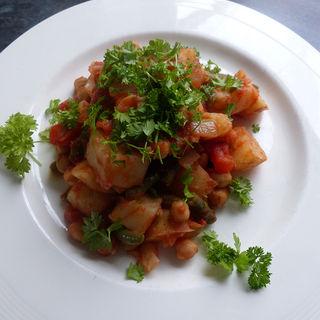 Ingredients
3 medium potatoes, peeled and cubed
1 onion, peeled & chopped
1 clove garlic, peeled & crushed
1/4 to 1/2 tsp chilli powder
200 g French beans, topped & tailed
1 tbsp parsley, chopped





Please Note: May still contain traces of gluten, egg and dairy.
---
---