Honey & Semolina Cake
Seasonal Vegetarian, Dairy free recipe
A dairy free, light cake made with oranges, semolina and honey.
Preparation
Grease a 5 inch wide cake tin (round or square).
In a bowl, mix together the semolina, self-raising flour and a pinch of salt.
Split the eggs, keeping both the yolk and egg white. Mix together the egg yolks with the olive oil and the honey (but keep 4 tbsp of honey apart). Add this to the semolina mixture and combine well.
In a glass bowl, beat the egg whites until stiff. Gently fold the egg whites into the cake mixture.
Put the mixture into the greased tin and bake in a 175C (gas mark 4) for around 20 - 25 minutes.
In the meantime:
grate the orange skin thinly and squeeze the orange. Put both in a small pan, add the rest of the honey and the cinnamon stick and let it simmer on low heat until it has a syrupy texture.
Toast the almond flakes in a dry shallow frying pan.
Cover the cake with the orange syrup and sprinkle over the toasted almond flakes. The syrup will set a little and becomes sticky.
Special Diets
When using the ingredients listed, this recipe is suitable for the following diets:
• Vegetarian
• Dairy free
Please Note: May still contain traces of gluten, egg and dairy.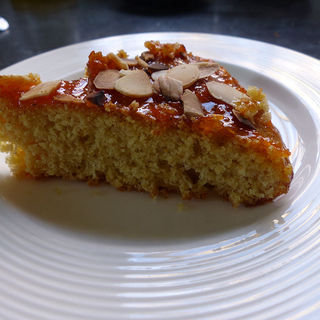 Ingredients
100 g semolina
Pinch of salt
1 organic orange


Please Note: May still contain traces of gluten, egg and dairy.
---
---