Vegetable skewers with Smoked Tofu
Seasonal Vegan, Vegetarian, Dairy free, Egg free recipe
Got vegan guests coming to your barbecue? Don't worry, these vegan vegetable skewers will surely be a hit!
Preparation
Preheat the oven to 180°C (or barbecue them).
Cube the tofu and zest the lemon. Slice the zucchini, mushrooms and peeled potatoes into thin slices. Cut the pepper into pieces. Cut the onion in half and separate the individual layers from one another.
Blend the sunflower oil with the spices and lemon zest. Put the garlic through a garlic press and add to the oil.
Thread all of the vegetables and the tofu onto the skewer, alternating as you go, and brush the marinade on them to make them crisp up when grilled.
Place the skewers on a baking sheet lined with parchment paper and bake at 180°C in a convection oven for approximately 15 minutes. You can also place them under the broiler for an additional 7-8 minutes. In warm weather, you can grill them on the barbecue. Serve with salads and dips.
Courtesy of Taifun
Special Diets
When using the ingredients listed, this recipe is suitable for the following diets:
• Vegan
• Vegetarian
• Dairy free
• Egg free
Please Note: May still contain traces of gluten, egg and dairy.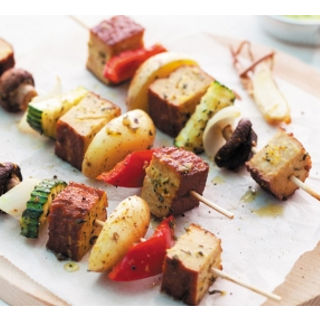 Ingredients
1 onion
1 bell pepper
1 clove garlic
1 courgette (zucchini)
1 tbsp dried rosemary
1 untreated lemon
120 g medium-sized mushrooms
3 medium-sized potatoes
8 long wooden skewers
Chili Powder
Salt & Pepper




Please Note: May still contain traces of gluten, egg and dairy.
---
---