Leek and sausage pie
Seasonal Vegetarian recipe
Although pretty high in saturated fats, if you only have this dish occasionally, it is quite nice. Leeks are in season most of the winter.
Preparation
Boil the potatoes for around 15 - 20 minutes, depending on the size of your potatoes. You can check if they are ready, by pricking one with a fork, if it goes in easily the potatoes are ready.
Melt 1 tbsp of butter in large pan, add the chopped leeks and onions and fry for around 10 minutes until softened. Add the (vegetarian) sausage and fry for another 5 minutes. If using sausages with meat, fry everything for 5 more minutes.
Drain the potatoes, add the rest of the butter and the cream and mash. Add the egg and paprika and combine everything. Now add the leek/onion mixture and stir together.
Put in an oven dish, add the grated cheese and bake in a 190C (gas mark 5) oven for around 30 minutes until golden brown.
Special Diets
When using the ingredients listed, this recipe is suitable for the following diets:
• Vegetarian
Please Note: May still contain traces of gluten, egg and dairy.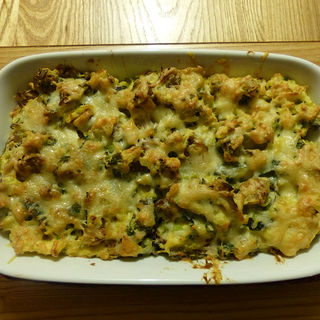 Ingredients
500 g potatoes, peeled and cut in equal sizes
400 g leek, cleaned and chopped
1 onion, chopped
3 tbsp butter
100 ml single cream
80 g Gruyere cheese, grated

Please Note: May still contain traces of gluten, egg and dairy.
---
---