Rainbow Noodles with Chilli Peanut Sauce
Seasonal Vegan, Vegetarian, Gluten free, Dairy free, Egg free recipe
Gluten free soba noodles with fresh vegetables in a chilli peanut sauce
Preparation
In a bowl combine the Meridian Peanut Butter, soy, palm sugar, chillies and hot stock. Stir to make a smooth sauce then set aside.
In a large frying pan or wok heat the oil till smoking hot. Cook the shallots, garlic and all the vegetables, apart from the chard, stirring continuously for 5 minutes until everything starts to soften.
Add in the noodles and chard and tip over half of the peanut butter mixture, stir well to coat everything and heat through.
Divide between four bowls, squeeze over some lime juice and drizzle with the remaining dressing.
Cook's tip:
Add prawns, chicken, tofu or quorn for an extra protein hit.
Courtesy of Meridian Food
Special Diets
When using the ingredients listed, this recipe is suitable for the following diets:
• Vegan
• Vegetarian
• Gluten free
• Dairy free
• Egg free
Please Note: May still contain traces of gluten, egg and dairy.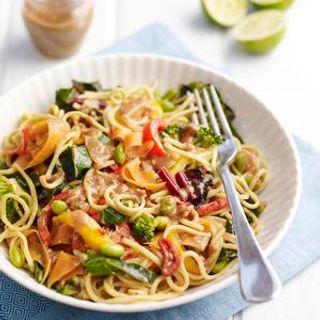 Ingredients
1 banana shallot, finely sliced
1 carrot, sliced into ribbons with a veg peeler
1 clove garlic, finely chopped
1 lime
1 red pepper, finely sliced
1 yellow pepper, finely sliced
1-2 red chillies, finely diced
2 handfuls soya beans (frozen is fine)
2 tbsp nut oil
4-5 broccoli florets, finely sliced
Large handful of rainbow chard, finely sliced





Please Note: May still contain traces of gluten, egg and dairy.
---
---