Miso Maple Winter Roast
Seasonal Vegan, Vegetarian, Gluten free, Dairy free, Egg free recipe
Simply pop your seasonal veg in the oven and glaze with this deliciously versatile dressing.
Preparation
Preheat the oven to 200 degrees.
Cut the cabbage into eight wedges and rinse with water. Place the chopped cabbage and the carrots on a baking tray.
Drizzle generous amount of extra virgin olive oil over/in-between the layers of the cabbage leaves. Scatter some thyme and a pinch of sea salt and place the tray at the bottom of the oven for 20-25 minutes.
Check and turn the vegetables around half way through.
Meanwhile, mix all the ingredients for the dressing together in a bowl and set aside.
Once the vegetables are ready, take out of the oven and serve on a plate. Pour the miso glaze between the leaves to flavour each layer of the cabbage.
Serve warm with the halved clementines and a sprinkle of pink peppercorns or chilli flakes.
Enjoy!
Courtesy of Clearspring
Special Diets
When using the ingredients listed, this recipe is suitable for the following diets:
• Vegan
• Vegetarian
• Gluten free
• Dairy free
• Egg free
Please Note: May still contain traces of gluten, egg and dairy.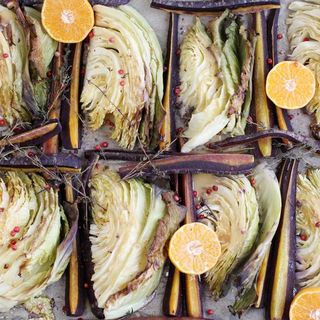 Ingredients
1 Cabbage, any type
2-3 Carrots - halved if big
Clearspring Extra Virgin Olive Oil
Clearspring Traditional Sea Salt
Thyme – fresh or dried
For the Glaze:
1 Clementine – squeeze out the juice
Half a Lemon – squeeze out the juice
Optional 3 Clementines - halved
Pink peppercorns and chilli flakes





Please Note: May still contain traces of gluten, egg and dairy.
---
---