Vegetarian Burgers with Seaweed
Seasonal Vegetarian, Gluten free, Dairy free recipe
Never knew what to do with seaweed? Try this healthy alternative to meat burgers, made with tofu and seaweed! Seasonal recipe with tomatoes and lettuce.
Preparation
Drain the tofu. You can do this by placing the tofu on a clean tea towel, wrap the sides of the tea towel around the tofu and put a heavy object on the top (like a heavy pan). Leave like this for 30 minutes.
Mash the drained tofu with a fork.
Mix together the stem ginger, nori sprinkle, egg, bread crumbs, miso soup and spice mix and add this to the tofu. Mix well. Form burgers (with wet hands) of this mixture.
Put the burgers on a baking tray lined with baking paper.
Bake one side in a 220C (gas mark 7) for 10 minutes. Turn the burgers, add the rolls and bake for another 10 minutes.
In the meantime mix together the mayonnaise and the wasabi powder. Add to the shredded lettuce.
Slice open the rolls and add the lettuce, one burger, tomato and gherkin. Top with the other half of the roll.
FOR GLUTEN FREE: REPLACE THE ROLLS WITH SOME TATTIES!
Special Diets
When using the ingredients listed, this recipe is suitable for the following diets:
• Vegetarian
• Gluten free
• Dairy free
Please Note: May still contain traces of gluten, egg and dairy.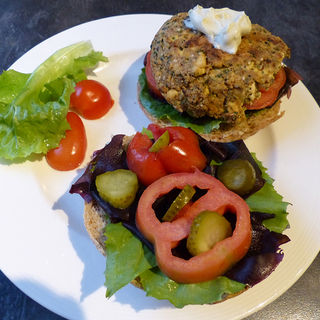 Ingredients
1 egg
sesame seeds
chili flakes
4 honey&spelt rolls (contains gluten)
2 tomatoes, sliced
4 gherkins, sliced
Iceberg lettuce, washed and shredded
1tsp wasabi powder



Please Note: May still contain traces of gluten, egg and dairy.
---
---