Anti-inflammatory Curry
Seasonal Vegan, Vegetarian, Gluten free, Dairy free, Egg free recipe
Courtesy of Viridian. This curry contains lots of anti-inflammatory ingredients, healthy seasonal vegetables and lots of taste. Spinach is available from end of April until end of October, so when you make this curry in these months it has a lower environmental impact.
Preparation
1. Heat the oil in a large saucepan and cook the onion, garlic, ginger and chilli.
2. When the onion has softened, add all the spices and heat until they are becoming fragrant.
3. Add the sweet potato and stock and simmer for about 15-20 minutes until the sweet potato is soft. At this point add the spinach.
4. Once the spinach has wilted, the curry is ready to serve with coriander leaves, topped with
flaked almonds and a drizzle of Viridian Joint Omega Oil. It is best served with brown rice to increase its nutritional profile further.
Courtesy of Viridian
Special Diets
When using the ingredients listed, this recipe is suitable for the following diets:
• Vegan
• Vegetarian
• Gluten free
• Dairy free
• Egg free
Please Note: May still contain traces of gluten, egg and dairy.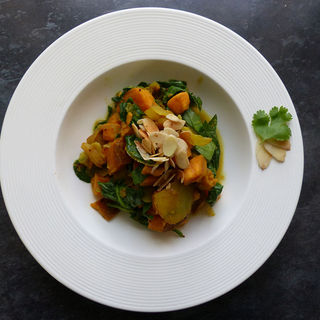 Ingredients
1 heaped teaspoon turmeric
1 teaspoon black mustard seeds
1 teaspoon freshly grated ginger
1 teaspoon ground coriander
150g spinach, coarsely chopped
2 green chilies, thinly sliced
2 large cloves of garlic, finely chopped
2 red onions, thinly sliced
800g sweet potato, diced with skins left on
Large handful of fresh coriander leaves, coarsely torn





Please Note: May still contain traces of gluten, egg and dairy.
---
---