Three Bean Curry
Seasonal Vegan, Vegetarian, Gluten free, Dairy free, Egg free recipe
This vegan recipe is full of flavour and all the family can enjoy it, it's a deliciously hearty and healthy veggie curry that tastes delicious and is simple to make and packed with protein.
Preparation
If using dried beans, soak overnight and cook the next day for around 1 hour!
In a large wok, heat up the oil, and place in the onions. Cook them until they begin to turn golden in colour!
Once the onions are a light brown, add in the chilli, ginger, garlic and salt. Let simmer and cook for 5 minutes. Keep the ingredients moving with a wooden spoon to prevent sticking!
Add the tomato puree, cumin seeds & Tikka powder and stir.
Add the black eyed beans, kidney beans, green beans and chopped tomato. Cover the wok with a lid and leave to simmer for 5-10 minutes.
Once the beans have softened and the curry is bubbling, take off the lid and stir in the pea protein. Leave uncovered to simmer for a further 5-10 minutes.
Once your delicious curry has fully cooked, remove the wok from the heat and serve while warm.
Serve with some wholegrain rice, fresh coriander & homemade flatbread.
Courtesy of A.Vogel
Special Diets
When using the ingredients listed, this recipe is suitable for the following diets:
• Vegan
• Vegetarian
• Gluten free
• Dairy free
• Egg free
Please Note: May still contain traces of gluten, egg and dairy.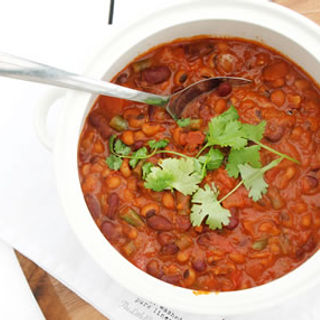 Ingredients
1 cup of water
1 large tomato, roughly chopped
1 red chilli
1 tbsp of fresh ginger, grated
1 white onion, finely chopped
1/3 cup green beans, washed & roughly chopped
2 garlic cloves, crushed
Handful of coriander (optional)
Pinch of salt





Please Note: May still contain traces of gluten, egg and dairy.
---
---